We are happy to announce the release of the Grafana HTTP API Data Source 1.1.0. This release includes the following updates:
Signed as a community plugin and available in Grafana Cloud and On-Premises.
Updated Plugin configuration, types and README.
Updated to the latest Grafana 9.4.3 toolkit.
Grafana Catalog
The plugin was updated in Grafana Catalog on March 15, 2023.
We just started​
The first release can retrieve
Health information.
List of Data Sources.
Annotations and Alarms with filter capabilities.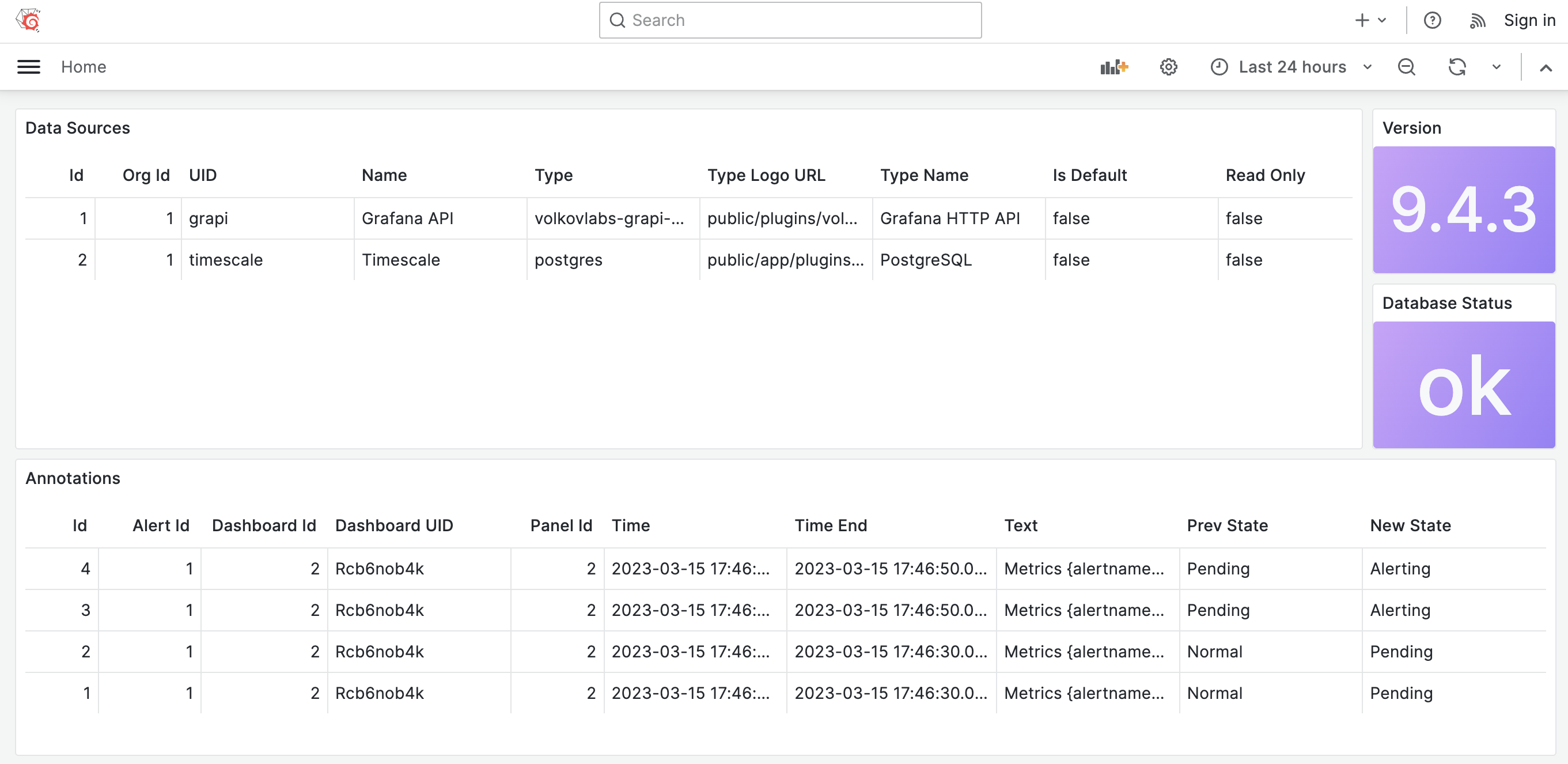 Roadmap​
We are planning to add most of the HTTP API endpoints for Dashboards, Users management, and Configuration. You are welcome to open feature requests in the repository.
Getting Started​
The Grafana HTTP API Data Source can be installed from the Grafana Catalog or utilizing the Grafana command line tool.
For the latter, please use the following command.
grafana-cli plugins 

install

 volkovlabs-grapi-datasource



YouTube Tutorial​
Release Notes​
Features / Enhancements​
Update to Grafana 9.4.3 (#13)
Update Bearer token plugin configuration (#13)
Signed as community plugin (#14)
Update Grafana types and description (#15)
Feedback​
We're looking forward to hearing from you. You can use different ways to get in touch with us.
Ask a question, request a new feature, and file a bug with GitHub issues.
Subscribe to our YouTube Channel and leave your comments.
Sponsor our open-source plugins for Grafana with GitHub Sponsor.
Support our project by starring the repository.